18 December 2019
Newsletter Articles
Principal's Report
As our last newsletter for the year, I'd like to congratulate our award winners for 2019. The final
assembly was a lovely celebration for the students, performing well rehearsed items for their family and friends. Thanks to all staff and students, who worked tirelessly to prepare for the night.
The Forest Primary Grade 6 students were amazing in presenting their interpretation of their primary school years and certainly showed great confidence and pride in performing. I wish each and every Grade 6 the very best for the future and we look forward to hearing of their future successes.
Award Recipients
Ruth Forrest Award for Leadership, study and sport- Hannah Fisher
Minister's Award for Pride of our School, community spirit, attitude and initiative- Sidney Bailey
Smithton Club Junior Citizen Award-Bridie Payne
Forest Sports Centre Award- Nash Walker and Blake House
Smithton High School Bursary- Blaine Donnelly
The Rocky Cape Lions Club Awards - Rylan Grey, Nevaeh Tuxworth and Elizabeth Ettlin
Senator Anne Urquhart Award for Excellence- Shaelea Billett
Ricoh Business Centre Citizenship Award- William Dixon
Braddon Labor Team Agricultural Award- Alex Laing
A final thank you and best wishes to Tayla Smith, Amy Phillips and Samantha Hayes for their dedication, professionalism and support for Forest Primary students and families. It has been the community's privilege to have you be such an important part of the Forest Primary team.
As the year winds up, we wish all our families an enjoyable Christmas break; spend quality time together doing the things you love, laugh a lot and stay safe.
Book Sales Day 2020
Library Books
We still have a long list of library and home reader books missing. Books are a valuable resource for our children's learning and it's a shame that we have to spend unnecessary money on replacing ones that have been misplaced. Please have a good look at home over the holiday period for any books that might belong to the school.
School Association AGM
Due to a lack of numbers at the recent AGM, the school association AGM will be rescheduled for a date to be advised early in the New Year. Please consider whether you may like to be a part of this.
Parents and Friends
The Forest Primary School Parents and Friends Association would like to thank the school community for their support over the past 12 months. With this support we have been able to make valuable contributions to the schools resources, grade 6 trip, subsidise school bags and support students learning. We look forward to another successful year in 2020.
P&F Christmas Party
Christmas Parade
Despite the weather, we had a wonderful time at the Christmas parade. Santa's workshop taking home first place! Thank you to Miss Hayes for her hours of organisation and to Alan Lord for providing a truck.
Parade Fun
School Picnic – History Walk
On the history walk we went on an excursion around Stanley to learn about historic sites. The first site we visited was the commercial hotel. It was among the first hotels in Stanley. The commercial hotel was where the towns' people came to play billiards, where fishermen would swap stories of the west coast and was where families gathered to meet friends. Another site we visited was Joe Lyons Cottage, the home of former premier of Tasmania. My favourite historic site was the captain's cottage because it was the first built in the 1830s. We also visited the Stanley museum where we found out how the Staley Nut was named, and how in 6 years, Stanley will have its 200th birthday.
Jorja Fisher
On Tuesday we went on a history walk. First we went to the commercial hotel on 28 church street. It was originally built as the offices mess for the Van Diemens Land Company. On the second site we went to Joe Lyons cottage, 14 alexander terrace. Joe Lyons Cottage was the birth place and childhood home of Joseph Lyons, a former premier of Tasmania, 1923-1928 and Tasmania's first prime minster of Australia, 1932-1939. My favourite was the museum. Sue showed us a slide show of Stanley in the olden days and then we had a look around. My favourite part of the museum was the old clothes.
Matilda Lockett
Kinder Enrolments
2020 Canberra Trip
Contact Us
Did you know that you can contact us on the Schoolzine app for absences or bus messages? It's easy to keep in touch. Use the contact us button to send us a message or the absentee form to notify us that your child will be away.
2020 Levies
Student Assistance Scheme 2020
Student Assistance Scheme (STAS) is one form of financial assistance available to assist with the cost of school levies. The scheme provides assistance for low-income families towards the cost of levies for students enrolled from kindergarten through to year 12. STAS is provided through school and college resourcing rather than payment direct to families. If you are already receiving assistance, you will receive a letter in the mail in regards to 2020 payments. If you have not received support in the past and believe you might be eligible, please contact the office for an application form.
Show Society Message
On behalf of the Circular Head Show Society, I would like to thank the Forest Primary School community for their continued support of the C.H. Show. The different collections particularly in relation to commemorating the First Flight across Bass Strait were great and received many comments. School entries from across the district make up a very important part of the display in the Exhibition Hall and are always commented on by sponsors and patrons of the show. Thank you everyone.
Sue Smedley (Secretary)
Kites Program January 2020
Circular Head Children's Services Inc offers a school holiday child care program for children aged 5 -12 years old and operates between the hours of 8 am and 6 pm. Please click on the attachment to download the schedule and booking form for the holidays or alternatively see the office for a copy.
Dates to Remember
2019

Term 4

Thursday 19th December

Final Day for 2019
2020

Term 1

Thursday 30th January

Book Sales 9 am – 3 pm

Friday 31st Jasnuary

Book Sales 9 am – 3 pm

Wednesday 5th February

Students First Day
2019 Term Dates
| | |
| --- | --- |
| Term 1 | Wednesday 6th February – Friday 12th April |
| Term 2 | Monday 29th April – Friday 5th July |
| Term 3 | Monday 22nd July – Friday 27th September |
| Term 4 | Monday 14th October – Thursday 19th December |
2020 Term Dates
Community Noticeboard
SZapp
Learn how to install the app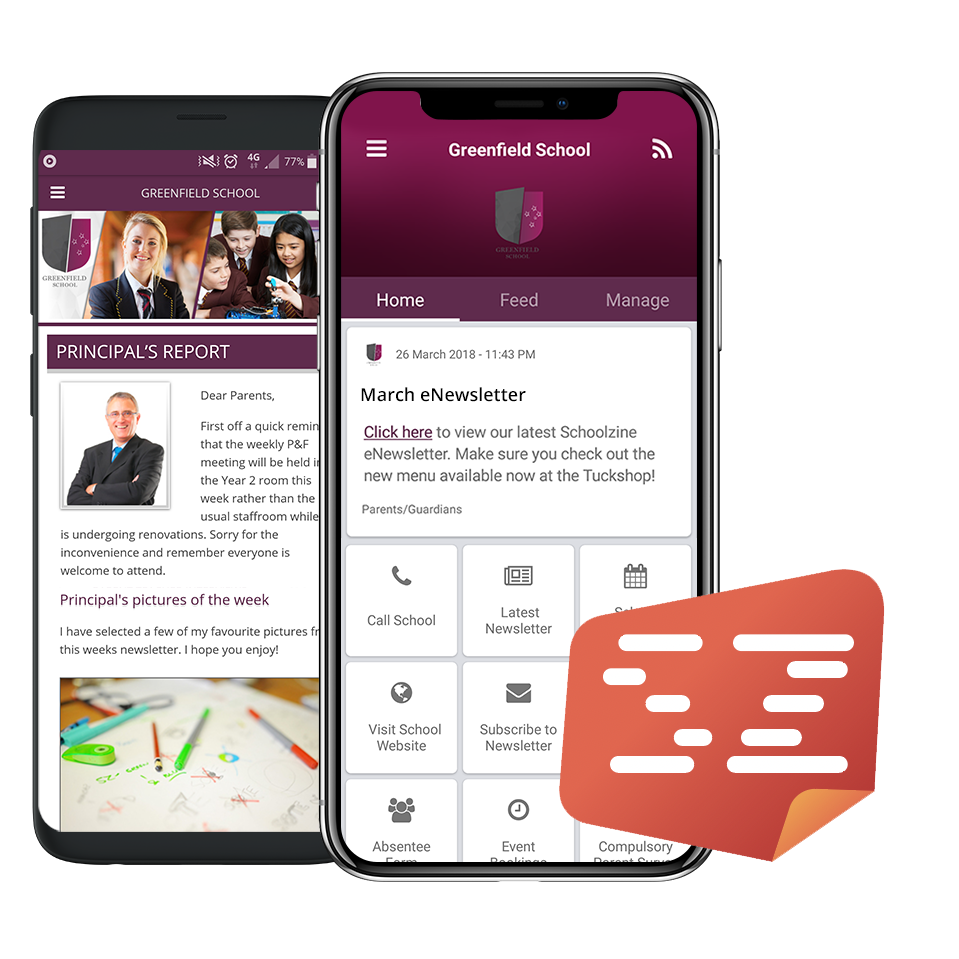 Apple Devices:
On your device, open the App Store.
Search the App Store for SZapp.
Download and install SZapp.
Android Devices:
On your device, open the Play Store.
Search the Play Store for SZapp.
Download and install SZapp.
Find your School
Select your school's region.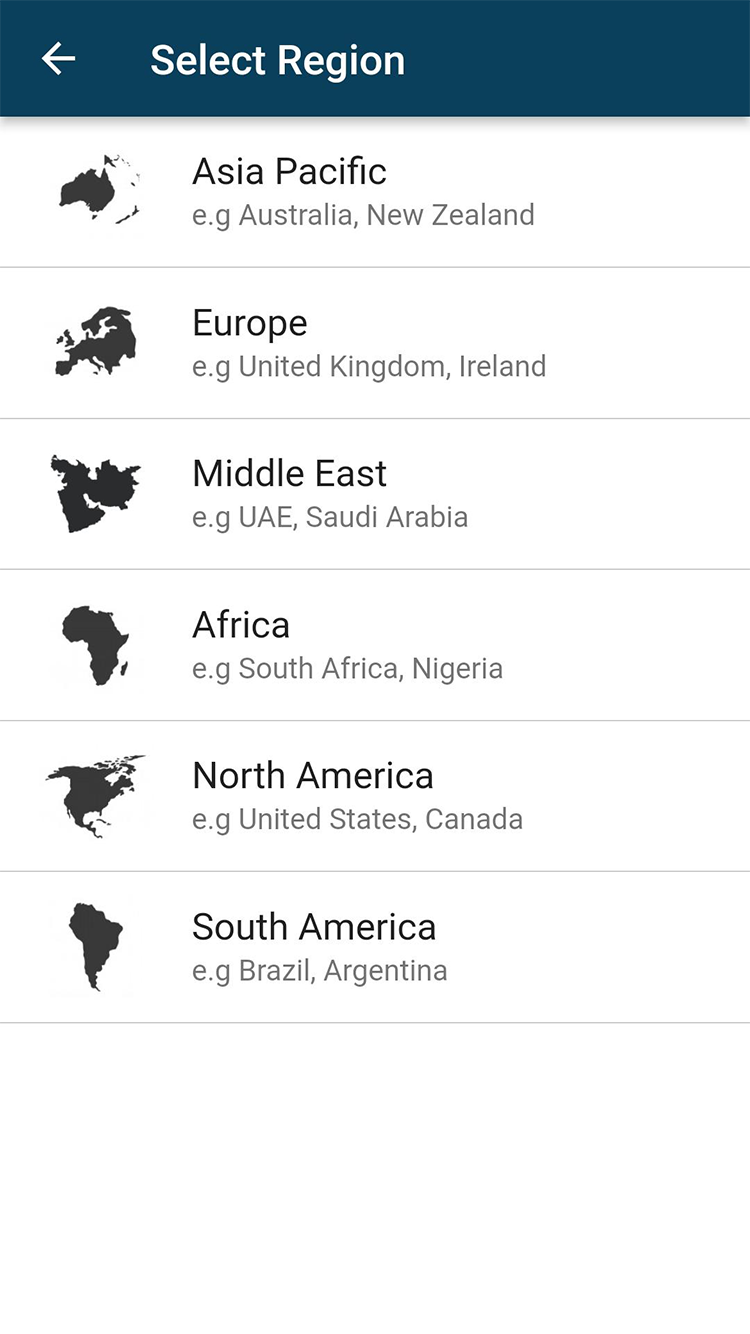 Search for and select your school.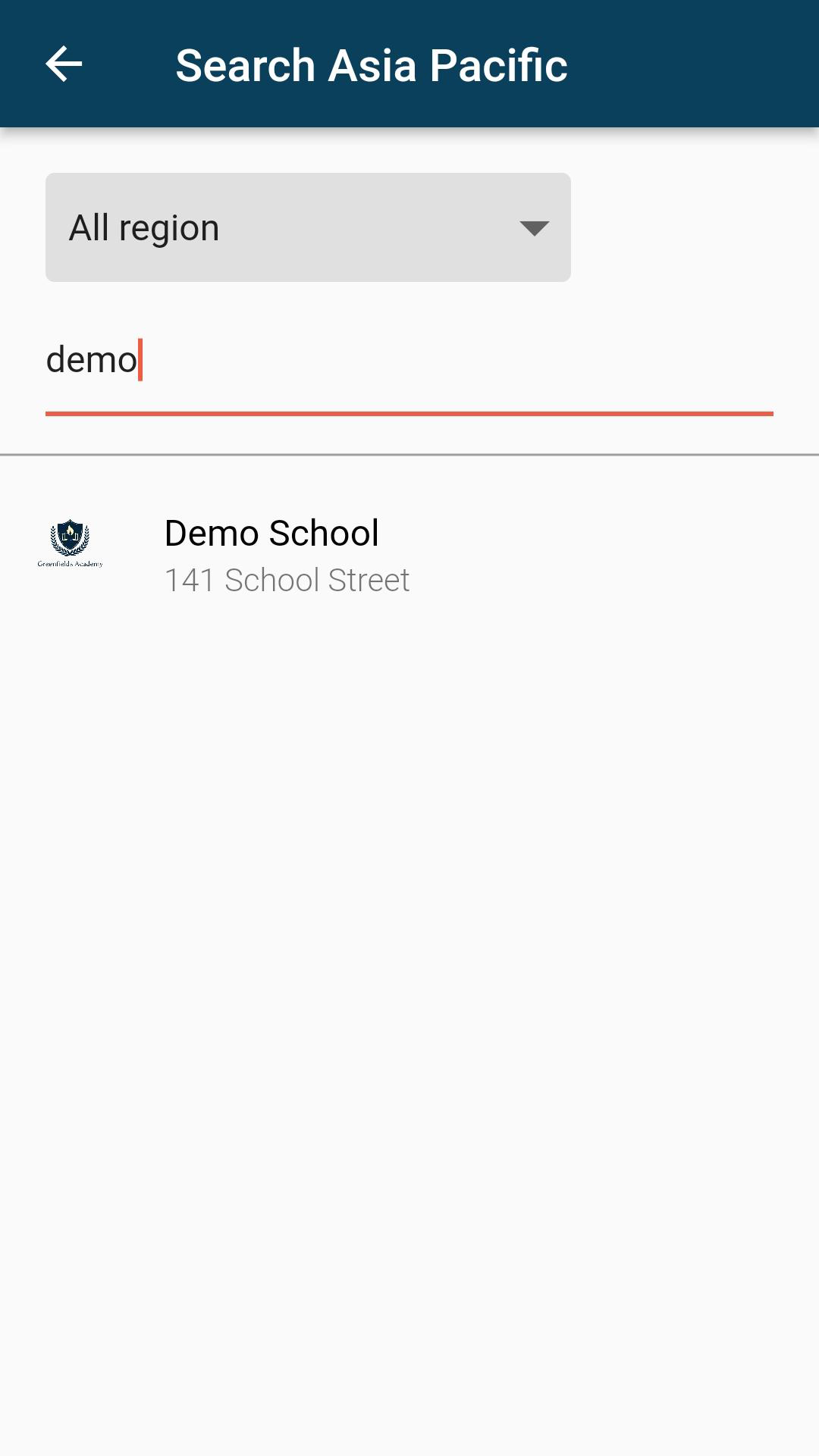 Register a User
Before you can add your school, you will need to register.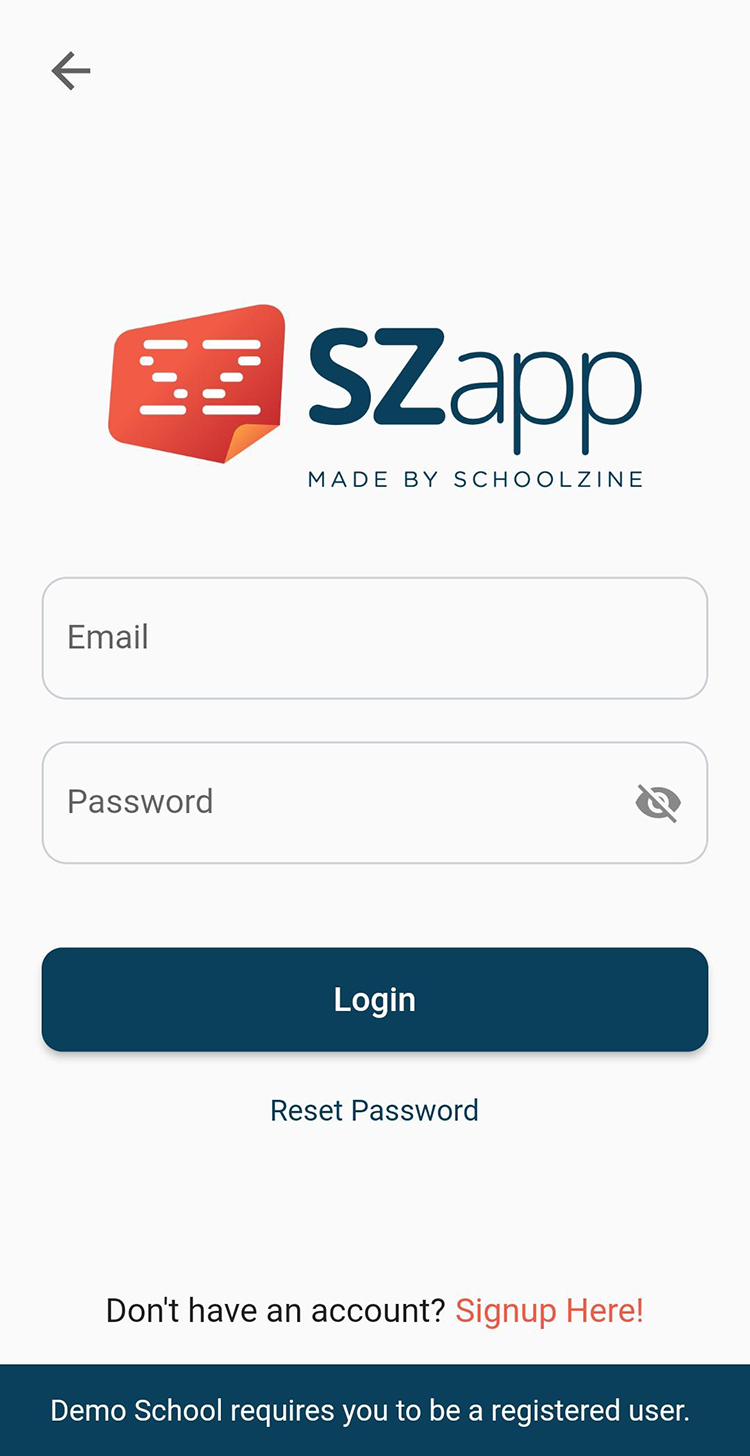 Enter your email and name.
Create your password.
Confirming your Email Address
Once registered you will be sent an email to confirm your email address. Open your mail program and click/tap the URL to confirm.
Upon completion, you will then be shown a confirmation screen.
Allowing Permissions
Upon installation of the update, you will be asked to allow access to storage on your device. This is required to ensure that SZapp can access the necessary files to store crucial data on your device.
Please click the affirmative options on each pop-up.
Note: The pop-up message you see may differ depending on your device.
Managing Notifications
Choose which group/s you would like to receive notifications from.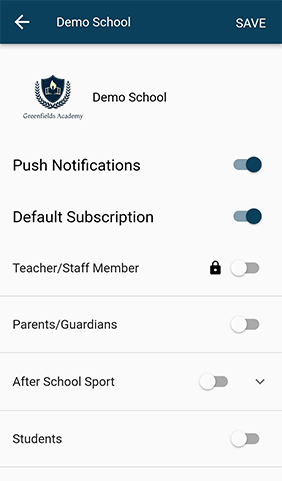 Groups with arrows indicate that there are sub-groups which you can join.
Home
The Home tab displays the most recent news item and links to important school information and tools.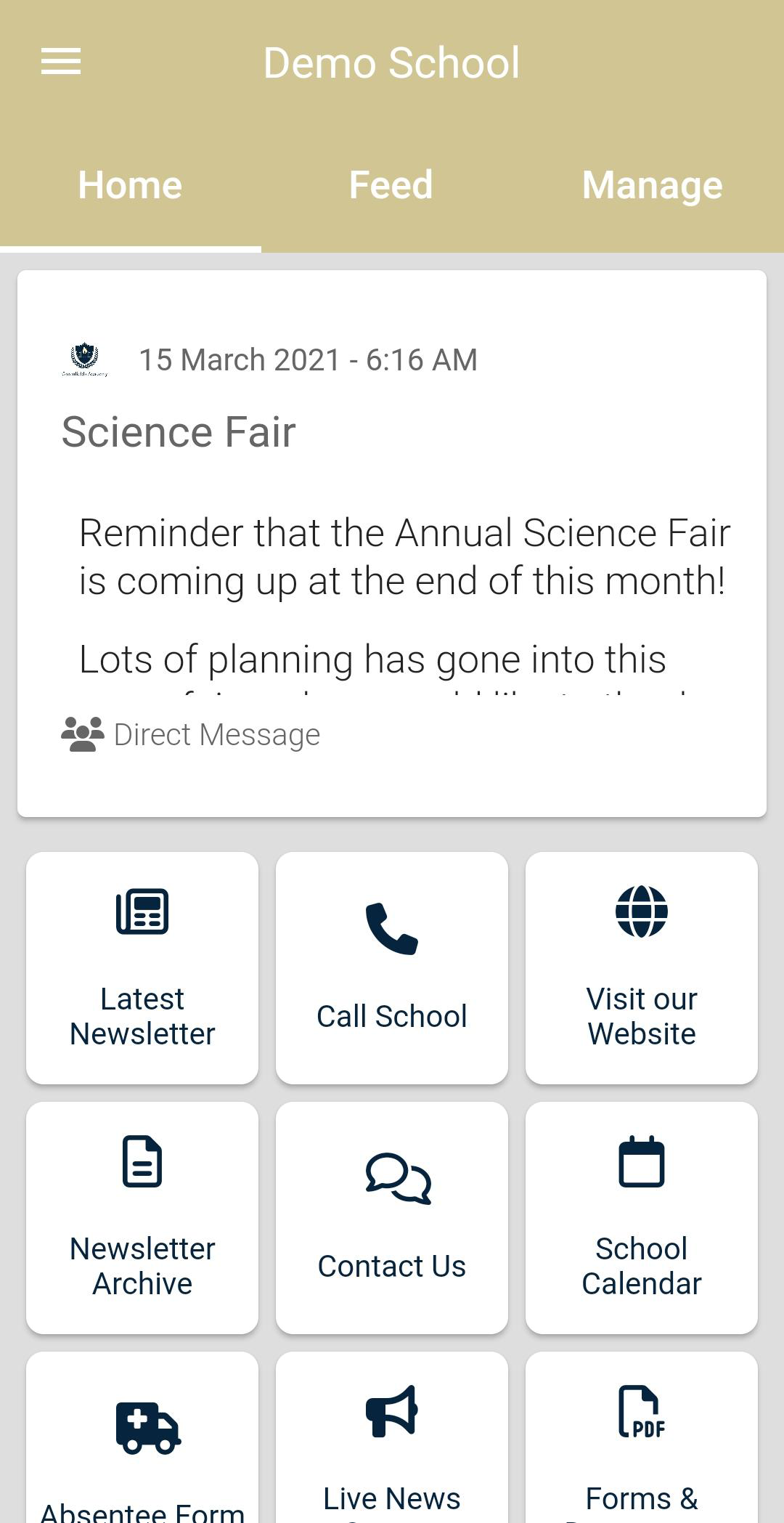 Feed
The Feed tab shows a summary view of all news items which you have subscribed to.
Manage
The Manage tab allows you to customise what information shows in your news feed and what push notifications you will receive.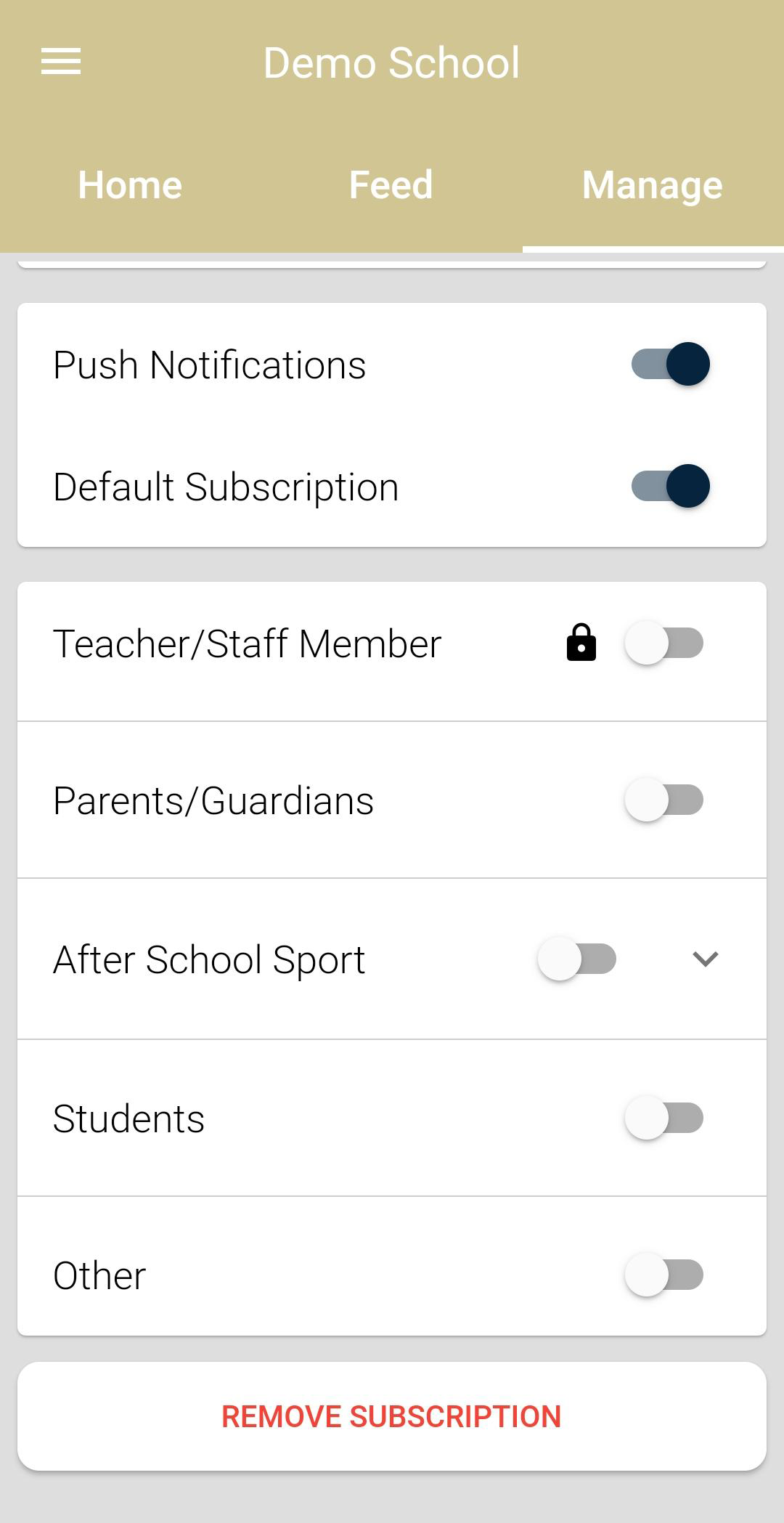 For more information please view our FAQs